METZELER KAROO EXTREME motorgumi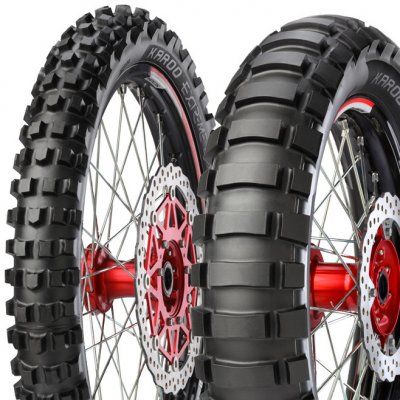 Kosárba helyezéshez válaszd a lenti listából a megfelelő gumit, vagy használd a gumikeresőt!
Extreme traction
The knobs design and layout is designed to provide extreme traction on the difficult terrains of the most demanding rallies.
The rear tyre focuses on enabling the traction and for this reason the tread design is composed by 3 big blocks on each pitch, that provide traction on loose terrains thanks to their height and the space between them. 
The vertical wall of this line of knobs works as a claw that penetrates the ground and  generates massive traction.
The wide block surface provides a wide contact patch that ensure grip on hard terrain.
The reinforced structures then
Full control and directionality
The front knob layout is specifically designed to give directional stability both in straights and turns.
The central knobs feature a composite shape that thanks to the high quantity and multiple direction of the working edges and their position on a triangular layout provide maximum traction when braking and stability on both loose grounds and hard packed terrains.
The lateral knobs support the bike in turn and provides precise trajectory and directionality when leaning, granting outstanding security.
Full stability
The structure of the KAROO™ Extreme implements a high module low shrinkage fiber in a multi-plies carcass scheme that provide contact feeling, braking stability and maximum softness to absorb forces during jumps or obstacles surmounting; it also a very light structure to promote high speed stability and agile handling.
The structure is particularly developed for extreme off-road competition in combination with tubes and mousses and to be used in rallies with heavy and powerful motorcycles, ridden at high speed for long stages, often during hot seasons and on constantly changing terrain conditions.
Knob resistant to tear and wear
The compound formulation of the KAROO™ Extreme combines both natural rubber for mechanical resistance and synthetic rubber for wear and knob tearing resistance.
The high percentage of carbon black increase resistance to every kind of stress, even at high temperature, typical of the race in the desert and make the knobs resistant to 'tearing' and premature wear.
When used on hard terrains the compound prevents the tyre from overheating, hence reducing the risk to blow-up and blistering during the race.
Thanks to a better overall flexibility the structure provides excellent puncture resistance also with low pressures.
reduce the spinning effect and engage the compound at lower temperature, granting extreme traction in all terrain and conditions, with every temperature and at all speeds.