PIRELLI SCORPION MX EXTRA X motorgumi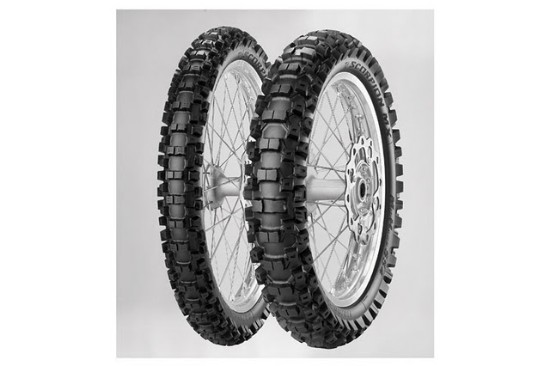 Kosárba helyezéshez válaszd a lenti listából a megfelelő gumit, vagy használd a gumikeresőt!
Optimal choice for professional training and amateur to semi-Pro racers who ride all types of terrain and demand performance lap after lap especially under "race simulation"



FRONT KNOBS: arrow-like layout and side knobs for directional accuracy and straightaway visibility; V-shaped knobs improve braking stability and cornering side hold.
REAR KNOBS: maximum traction on all terrain applications.
Surface area and compound's carbon black structure for balance between stiffness, reliability and lasting performance.
• Grip and traction on a wide range of terrain (from mid soft to mid hard).

• Perfect application for training; optimal compromise between performance and durability.

• Tread pattern taken from previous design with the rear's layout rigidity improved through "bridges" and a new front similar to the Scorpion MX Soft 410.

• Multi-ply carcass with high resistance to punctures but maximum flexibility to absorb forces during jumps or obstacles.

• Training performance in all terrain conditions with uniform knob wear, resistance to deformation while damping and thus an extended durability.