METZELER KAROO STREET motorgumi
150/70 R 18 M/C 70V M+S TL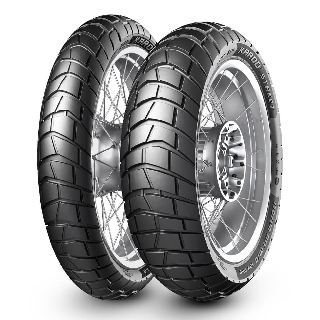 METZELER KAROO STREET
150/70 R 18 M/C 70V M+S TL
hátsó gumi
azonnal szállítható
The off-road tyre with on-road performance
On road agility
The profiles of the KAROO™ Street are directly derived from those of the TOURANCE™ NEXT, with the precise aim to increase the on-road behaviour. 
It features a multi-radius profile with an increased width and overall length of the contour to increase the surface of the footprint area and hence grip and stability also when leaning. 
The height of the shape has been sensibly increased to improve dampening capacity and comfort.
Grip on dry and wet
KAROO™ Street features a high silica compound with a balanced proportion of carbon-black and resins to achieve a high level of grip on road, both on dry and wet conditions. 
A relevant percentage of carbon black increase knobs resistance to 'tearing' and premature wear when used on-road.
The right choice of polymer typology, fillers and resins combined with our exclusive and patented mixing process is the key to improve the cohesion of the different
Traction in all conditions
The tread design of the KAROO™ Street is delivered from the disruptive layout of KAROO™ 3 and its uniquely shaped knobs with the precise objective to provide great on-road performance, wear regularity and a high level of stability combined with a cross-country appeal.
Extra-large central blocks create a wide and solid contact patch which ensures high speed stability on-road.
When riding off-road, the V-shaped knob layout with its multiple operating edges of blocks ensure acceleration,
Integration with electronic rider aids
KAROO™ Street's ensure an optimal integration with electronic rider aids such as ABS and traction control.
The combination of the extra-large blocks with their V-shaped layout and the high stiffness of the tyre structure enables a high level of stability, traction and smooth rolling, providing a clean signal and information transmitted to the ABS, Traction Control and other rider electronic aids, not interfered by tread patter vibrations or deformations typically found with other knobbly tyres.